Lady Cutler Award, 2016
Lady Cutler is a significant award, run by the Children's Book Council of Australia.
What a lovely atmosphere at the Castlereagh Boutique Hotel, with so many of my friends and acquaintances in children's literature present.
Among them at my table, Deborah Abela, Christopher Cheng and Bini, Libby Gleeson and Margaret Wild.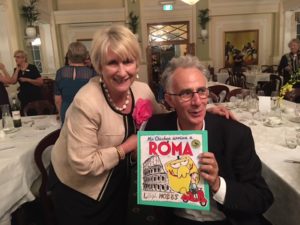 Leigh Hobbs Presentation
Leigh Hobbs is the 2016-17  Children's Laureate of Australia. He says his major focus will be to make creative opportunities for children, and to champion the essential role of libraries in our culture.
He gave a spirited address with his usual wit, charm, and empathy for children; only slightly spoiling my evening by asking everyone to draw Old Tom!
Award winner 2016 – Paul McDonald
I was delighted that this year's Lady Cutler Award was presented to Paul Macdonald, champion of Australian children's literature and owner of the Beecroft Bookshop.
Aspiring Writers Mentorship Program Announced
Cristina Capellutto -Harper Collins Publishing Director, Children's Books – announced the exciting news that the Aspiring Writers Mentorship Program will go national in 2017. The short-listed young writers for this year were also present, the winner announced, showing a commitment from the industry to nurture young people.