Australia's own celebration of reading (and writing!)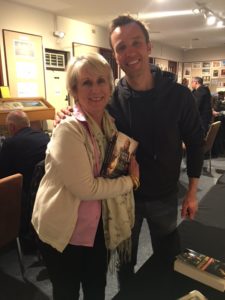 I've just returned from this fantastic conference at the Literature Centre in Fremantle, having delivered a key note and been on several panels.
My keynote called Writing under the influence focused on the inspiration for many of my texts; what the gift of reading means to me; and the importance of poetry and the ways and means of reaching young people through the art of writing.
It considered some of the work of Csikczentmihalyi and Seligman who describe what they call the experience of 'flow' where creativity flourishes. I observe that it relates admirably to writing and in particular to the writing of poetry.
The best moments in our lives are not the passive, receptive, relaxing times…the best moments usually occur if a person's body or mind is stretched to its limits in a voluntary effort to accomplish something difficult and worthwhile.
– Mihaly Csikczentmihalyi
I was also interested to learn about other writers' experiences and their latest works. I had the pleasure of catching up with Marcus Zusac, Maureen McCarthy, Archie Fusillo, Nick Earls and James Maloney; and meeting Scot Gardner, Deb Fitzpatrick, Dianne Touchell and Lili Wilkinson. What a wealth of Australian writers to spend time with!
It was such a receptive and enthusiastic audience – largely secondary teachers and teacher librarians who seem to appreciate all the writerly approaches – humour, tears and joys in a writer's life.
Lesley Reece, Director, along with her fabulous team at the Children's Literature Centre, looked after us superbly, from venue to the food to the timing of talks,to the bookshop, and to the celebrations – of which there were quite a few. It was extraordinary for me to have my work honoured in the way it was, including a special reading of Way Home.
I came home feeling changed and inspired by such deep interactions with fellow writers.